Avail our UX designers
on board to make your product shine
Our responsibility is to improve the feel, ease of use, and experience of the products that we create to ensure end-user satisfaction. Our Sree IT Solutions creative design team is well-versed in the best design practices and concepts for offering our clients an excellent user experience and interaction. Not only do we consider how effective a website's design is, but we also conduct user testing and optimize our code to improve overall performance. We have experienced and professional UI and UX designers with expertise in determining the most effective strategies and information architecture to build products that meet users' needs while providing a competitive advantage over other solutions.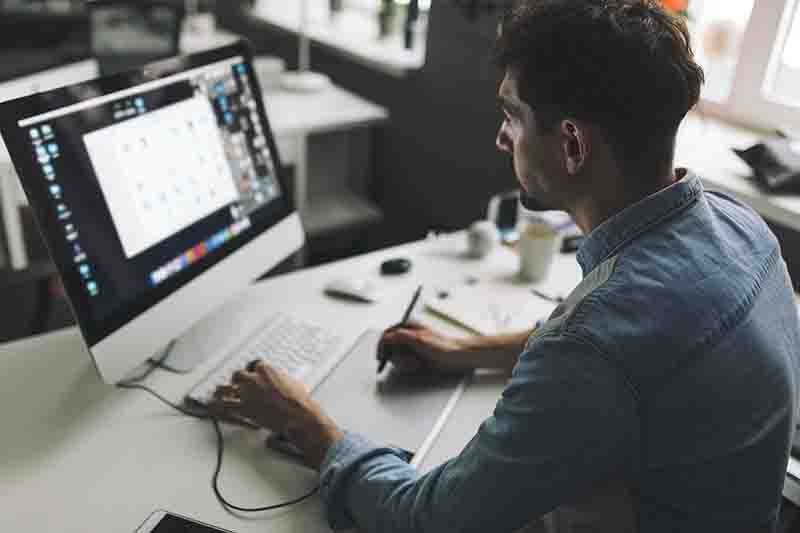 Expert

Our UI/UX professionals are experts in​
Services

Our expert UI/UX design services​
We will evaluate your website, application, or product using in-depth user analysis, expert reviews and heuristic evaluation and recommend impactful changes to improve your business performance.
We will assist you in beginning a conversation with your customers, ensuring that the image and feel of your product are deeply embedded in their hearts and minds through a distinct identity and a clear message.
We begin by conducting extensive user research to determine your customers' needs. Then we create a perfect visual representation of your idea, ranging from a simple sketch to a full-fledged prototype.
We combine in-depth research with best design practices and tools to provide your product with the interaction experience, visual appeal, and emotional bonds your customers crave.
We will examine your business objectives, the market, and your target audience to assist you in developing an irresistible value proposition supported by appealing visual aesthetics and a data-informed user experience.
Designing user interfaces for Mobile and Web
We make every effort to creatively transform your ideas and thoughts into a clear and fully functional design. We create user interfaces that are tailored to the user's needs and understanding.
Our team can also create a technical design to help our clients understand the project's technical workflow. We define the technology stack for all app components, third-party integrations, and service and API interactions in technical design.
?

Why choose our UI/UX design service?
The process of our UI/UX design work
For each project, we will allocate a devoted specialist, a UI/UX designer, and a technical team to collaborate with you to achieve complete justice for your ideas by utilizing the most relevant and advanced solutions.
Recognizing the requirements
Our business analyst team investigates your business goals, and they develop a list of requirements for the future product.
Analysis and research of the market
We research to analyze the behaviour of the target audience and create user profiles to understand better how to meet the users' needs.
Architecture of information
Creating an application structure and organizing the content can be quickly and easily found by those looking for it.
We research to analyze the behaviour of the target audience and create user profiles to understand better how to meet the users' needs.
Architecture of information
A wireframe is a sketch of how the future app will look (structure, content placing, pages functionality). A prototype depicts the product flow and how it will function.
We develop the overall visual style of the application, including colour schemes, elements, fonts, etc
Finally, all design materials are being transferred to the development team for further implementation.
Outstanding user experience
After all, our designs aim to provide our global customers with the best-in-class user experience and user interface.
We make certain that our customers receive the best design services possible, focusing on users, simplicity, and usability.
Extensive industry knowledge​
A certain decade-long IT industry experience in a variety of technologies is proof enough of our global success.
Reasonably priced and timely​
Our design solutions are affordable, timely, and effective in growing your user base due to close collaborations and innovative ideas.
Creating intuitive and appealing designs​
A certain decade-long IT industry experience in a variety of technologies is proof enough of our global success.Our user experience design (UX) expertise has simplified and improved the interaction between our client's target customers and their digital presence. Whether on a website, mobile app, email campaign, social media campaign, or even an Ad banner, our designs provide a one-of-a-kind digital experience. Our user experience has enabled our clients to create compelling digital media presences, increasing customer loyalty and brand value.
Astounding

What makes our UI/UX design services astounding?​
Expertise in a variety of fields:
Our design team has worked on apps and software for various industries, including healthcare, retail, finance, entertainment, insurance, and many others
Transparency, communication, and collaborative
From the beginning of a project, we provide complete project visibility and multiple open lines of communication. We schedule weekly calls with clients and keep them up to date on the project's progress.
Our web design and user interface design services are founded on tried-and-true practices and patterns that produce a bonding, predictable, and anticipated effect on your target audience. We suggest the best next step for your users and gently guide them toward your ultimate business goal, including a sale, subscription, or any other desired action. Our Sree IT Solutions make your products stand out from the crowd by providing your customers with a simple yet highly enjoyable journey.